The Border Keeper (Book 1 in the Mkalis Cycle)
Publication: 16 July 2019
Beyond the desert, at the end of the abandoned railway line, lies a near-forgotten border to the land of the dead. Vasethe —a man with a troubled past and a charming smile— follows the tracks to the border keeper's house. He would ask her permission to enter the nine hundred and ninety-nine realms of Mkalis, where gods and demons wage endless war.
But old secrets creep closer to the light, and hidden enemies watch from the shadows. When the border keeper agrees to aid Vasethe, she is unaware that their actions threaten to throw both worlds into chaos.
Available here.
"Beautifully and vividly imagined. Eerie, surreal, and lovely." – Ann Leckie
"A labyrinth of demons, dead gods, cranky psychopomps, and broken all-too-human lives. Hall is by turns wry and lush, genuine and venomous. So can I have the next one already?"—Max Gladstone
"A singular debut with no easy answers and beauty to spare."—Indrapramit Das
Star Eater
Publication: 22 June 2021
I was of history, not blood.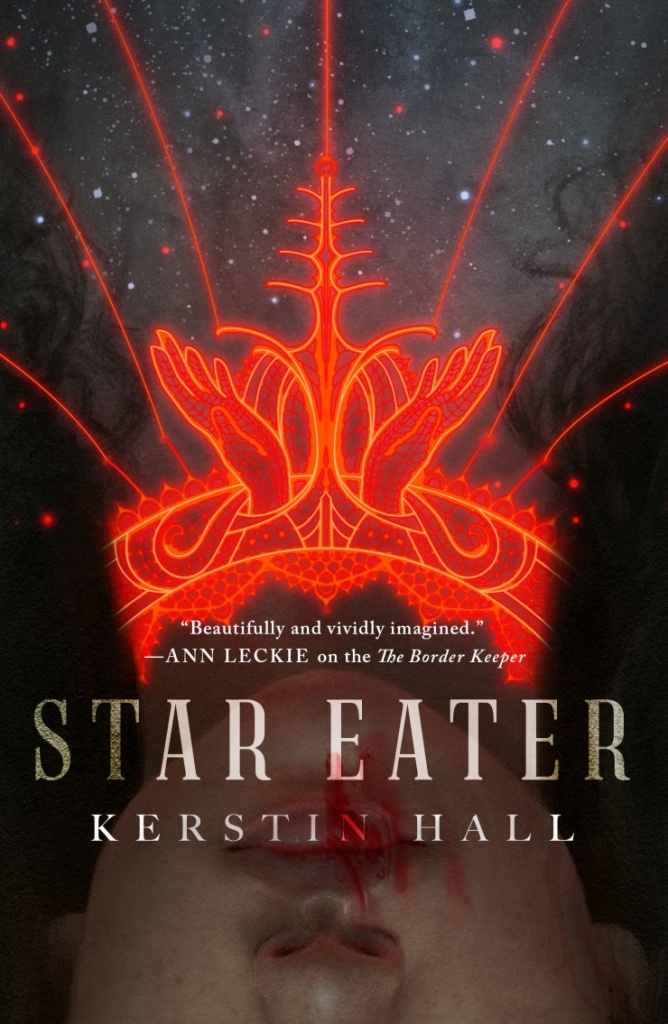 Elfreda never asked to be a Sister. The role exacts a high price – as guardians of the nation of Aytrium, Sisters must defend their home with cannibalistic magic. And while Elfreda is able to stomach the gruesome reality of her day-to-day duties, the prospect of propagating the Order's magical bloodline horrifies her.
She wants out, whatever the cost.
So when a shadowy cabal approaches her with an offer of escape, she leaps at the opportunity. As their spy, she gains access to the highest reaches of the Order, and enters a glittering world of opulent parties, subtle deceptions, and unexpected bloodshed.
But as Elfreda delves deeper into the conspiracies of the Sisterhood, so too do sinister forces turn their gaze on her.
Available here.
"Written in beautifully agile prose, Star Eater is a layered and incisive examination of power, and Elfreda Raughn its beating heart."—Rory Power, author of Wilder Girls
"A masterwork of worldbuilding, where each layer of secrets uncovered by the exceptionally rendered Elfreda merges the horrific with the systemic benign. Stunning, bloody, and everything I adore in fantasy."—Emily Duncan, New York Times bestselling author of Wicked Saints
"Utterly compelling fantasy, both haunted and haunting."—A. K. Larkwood, author of The Unspoken Name
Second Spear (Book 2 in the Mkalis Cycle)
Publication: 30 November 2021
After surviving the schemes of a vengeful goddess and learning some shattering truths about her former life, the warrior Tyn feels estranged from her role guarding her ruler. Grappling with knowledge of her identity, she unleashes her frustrations on all the wrong people.
When an old enemy returns wielding an unstoppable, realm-crushing weapon and Tyn is swept up in the path of destruction, she must make a choice about who she is and who she wants to be.
Preorder here.